The Holiday Season is the one time a year where you are full with the "giving" spirit. You spend time finding presents for the people you love and cannot wait to give them their gift. As you wrap each present you think about how they are going to react. Will they smile? Scream? Clap their hands? (this is what I do sometimes). No matter what their reaction is, seeing their emotions unfold when they open your gift is what makes "giving" so special. This is what I LOVE the most about giving gifts, seeing people experience joy right in front of you.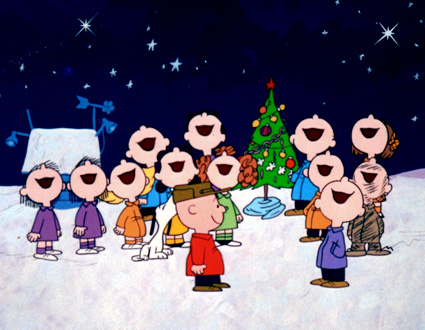 During this time of the year we are also inspired to do good for others, especially for those less fortunate than us. Ever since I was little, Christmas meant a time for you to be thankful and to do something for others. Whether it is preparing food baskets, donating money to charities at the cash register or serving food at soup kitchens, this was the time (more than ever) to pay it forward to someone who is less fortunate than you. I truly feel that this is where I really gained my passion and inspiration for doing good for others because I allow the Christmas Spirit to live and breathe in me everyday of my life.
For the past three Decembers, I have had the opportunity to lead a fundraiser at my office. In the past I have done a book drive for our 150 children who attend our school, allowing me to go back to my childhood days to give my favorite books to others. I remember reading "Goodnight Moon" and "Chicka Chicka Boom Boom!" night after night and every time I see the books I immediately think of my childhood. I am honored to pass on my fond memories to others so that they can experience the magic of imagination.
This drive is one of the highlights of my job because I get to deliver the books to each child before Christmas break. To see their eyes light up when they realize the book they are given is theirs to keep forever is truly an act of joy. Sometimes I wish I could do this more than once a year because I am hungry for giving others a gift. Do you ever get this feeling? Where it is almost like an itch?
2009 Holiday Book Drive
I am especially excited for this years drive. In response to a need identified by our program staff, this year's Holiday Drive for our children is focused on hats and mittens. As the weather continues to turn colder and colder, children need to stay warm as they travel from one place to the next. Next week I will be delivering a hat and mittens to our infants and toddlers before holiday break. I cannot wait to see the parents reactions when their children leave school with their heads and hands protected from the cold.
The
Young Associates Board
is a tax-exempt, non-profit affiliated organization of Children's Memorial Hospital in Chicago that is committed to providing hope for children with brain tumors. This is my second year serving on this board and I could not be more thankful to be on a civic board like this. Currently we are doing a Toy Drive for the patients at
Children's Memorial Hospital
. Toys, games, books, and arts and crafts help make patients' time in the hospital brighter and allow them to feel like kids while away from school and peers. What child doesn't like playing with a toy that takes them into a world created by their imagination? If this doesn't move you or give you the "itch" to make a child's day then excuse me while I call you
Mr. Grinch
or Scrooge. :)
These are just two ways I am being charitable this holiday season and I wish I could do more. Sometimes it so EASY to be distracted and "overwhelmed" by this time of the year that we forget to stop and think about what this season is really all about. Joy, peace, love, and giving.
As December quickly comes and goes, what Holiday plans do you have this year? Are you doing anything charitable this Holiday Season? What gets you into the giving spirit?
"Wouldn't life be worth the living
Wouldn't dreams be coming true
If we kept the Christmas spirit
All the whole year through?"
Author Unknown
"Charity sees the need, not the cause"
- German Proverb