So here it is. My official announcement of why I have been so MIA these days. I started a new job at Groupon as a G-Team Coordinator. You may be thinking... what is
G-Team
? I have never heard of this team before.
That is because we are fairly new and have only be "live" since September of last year. In 2008, Groupon was born out of a group action and fundraising platform called The Point. As the Groupon community grew, our collective consumer power helped people get great deals and discover fun ways to experience their cities.
Groupon began as a group-action and fundraising platform called The Point. As The Point grew in popularity, its collective consumer power surged and it began to drive people by the thousands to discover fun things to do in their cities. G-Team, Groupon's social-impact program, is taking Groupon back to its social-impact roots. G-Team's goal is to get Groupon followers involved with their communities in several ways, such as through fundraisers or civic-engagement activities.
G-Team campaigns range from ridiculous flashmobs to fundraisers that benefit local community organizations. Every G-Team campaign connects you with enough people to achieve something awesome that you couldn't have done alone.
Here is a video that helps to explain what a G-Team campaign is and how it works!
G-Team provides a platform for organizations and causes to garner the support of their local community and even solicit money for campaigns or project-based initiatives. Through the
G-Team page
, nonprofits, cause organizations and individuals can apply to have their campaign featured.
Since its launch last year in September of 2010, G-Team has run 217 campaigns, ranging from funding a local after-school program, to building a community garden and collecting supplies for a local food bank.
My biggest responsibility is to manage all of my cities that G-Team will be LIVE in. I am really excited to have the Midwest as my region since I am a Midwest gal myself. One city in particular that I am most excited about is Detroit, Michigan. This city has been through so much and is still barely treading water to stay afloat during this economic depression. Detroit is a city that has so many things being done and I can't wait to share them with the Groupon subscriber's of Detroit and Ann Arbor. This is just one of my eight cities that I will be managing and I hope you will keep a look out G-Team campaigns in your local community.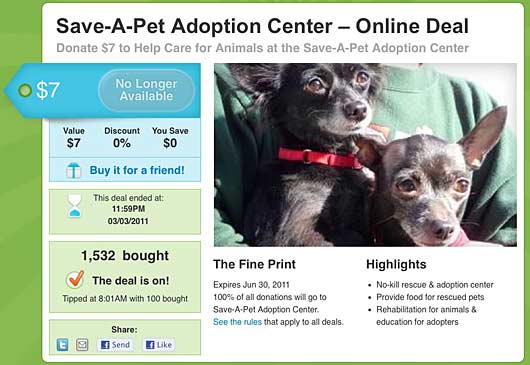 It is incredibly exciting that I am a part of a team who is helping local organizations make a difference in their local communities. Finally I have a career that includes both the corporate world and the nonprofit sector. I never thought it would be possible for me to find a job that had both worlds combined. Every day is an exciting, challenging, and rewarding day revolved around creating fundraising campaigns for worthy causes. I cannot wait to see where the G-Team will be by next year. All I know is that there is a team of people who are as ambitious, determined and eager to make a difference in this world just like me and I can't wait to see what impact G-Team has in Groupon cities.